Yosune
PORTUGAL | 2022 PARTICIPANT | TEAM 5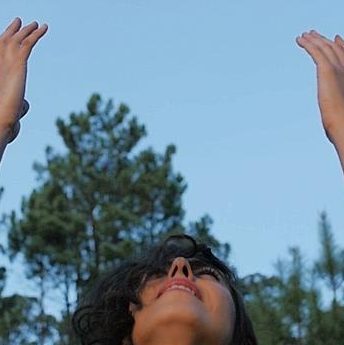 Yosune, singer & songwriter with a universal spirit presents in 2022 her new work, 'Madre Tierra', in which she sings stories inspired by Latin American music, folk and songwriting.
After releasing her first album as 'Yoyo Borobia', recorded in Brazil with Dj Deeplick, Yosune releases her single 'Azul' in 2021, an oneiric journey born from the longing and the yearning for an encounter with the other… without fear. An undiscovered shining path, sailing into the immensity of the blue.
Yosune composes her songs with her Venezuelan cuatro creating her magnetizing and unique hybrid style, coming from a wide range of influences, considering that she lived in Spain, France, Brazil and Portugal.
Devoted to her musical and theatre projects since 2011, Yosune already toured vastly in Europe and Latin America, as Yoyo Borobia, reaching 11 countries and more than 35 cities, so far – including her performing in one of the biggest festivals of all, Glastonbury Festival (2016).
Right now, she's preparing herself to the next tour to be done in Brazil, Argentina and Uruguay in November, to present:`Madre Tierra´, an homage to the Earth that gives everything without asking for anything in return
FEATURED LINKS
Official Website
https://www.yosunemusica.com/
Instagram
https://www.instagram.com/yosunemusica/
Facebook
https://www.facebook.com/yosunemusica
YouTube
https://www.youtube.com/c/YosoyYosune
Amazon Music
https://music.amazon.co.uk/artists/B08NTJJV69/yosune
Apple Music
https://music.apple.com/br/artist/yosune/1540174197
Spotify
https://open.spotify.com/artist/5D33Sh8tWXqd1FAiqDFLaj
Bandcamp
https://yoyoborobia.bandcamp.com/